Full video of the Webinar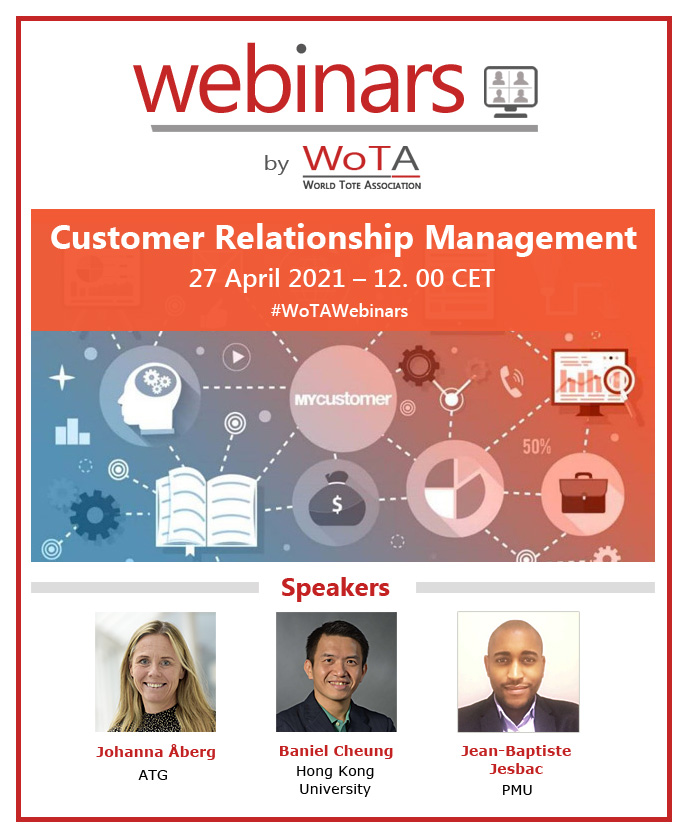 For many years, the betting industry knew little about customers and their betting behaviour as the traditional retail transactional process was anonymous. Today, many industries have adopted CRM strategies.
Operators need to transform the information into value creation and look at different segments to produce targeted offers that will satisfy a variety of different needs.
The exercise of customer segmentation is a common approach. The level of analysis, evaluation and implementation can still vary widely from one operator to another. An updated CRM system contributes to the knowledge of the company, but how to distinguish the important information from the unimportant and what type of action to put in place to turn new customers into loyal customers? In time of Covid crisis, are you adapting your strategy differently ?
Johanna Åberg explains how ATG's CRM strategy was adapted in January 2019 when Swedish gambling market was opened to competition.
Baniel Cheung establishes a common platform and understanding of the CRM subject with self-experienced cases.
PMU's CRM strategy was adapted to the French punters, mainly offline consumers. Covid-19 pandemic situation changed everything, Jean-Bapiste Jesbac explains the transition.
Johanna Åberg
Head of Marketing at ATG
Baniel Cheung
Adjunct Assistant Professor in the University of Hong Kong
Jean-Baptiste Jesbac
Customer & CRM Manager at PMU
Further Questions and Short Feedback
Thank you for attending WoTA Webinar on CRM.

Please continue to send questions. Your questions will be directed to our panellists and the answers will be shared.
Please contact florence.gras@world-tote.org if you have any inquiries.

Your feedback will help us to improve future events.