Full video of the Webinar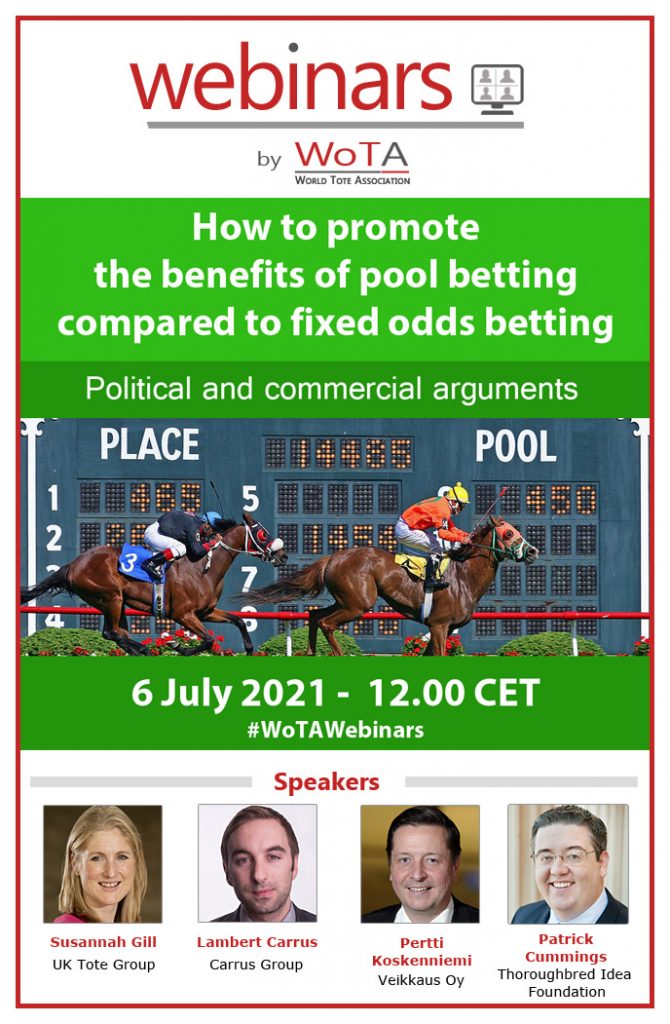 The fourth WoTA Webinar has come back on our fundamentals, the tote betting model.
We will looked at the differences and benefits between pool betting and fixed odds and debated how the two models can work alongside each other for mutual benefit.
Susannah Gill
Communications and Corporate Affairs Director at the UK Tote Group, has moderated the debate and started by showcasing on how the UK Tote present pool betting to the relevant stakeholders in the UK market, including the Government, the regulator, customers, and the racing industry. She has highlighted the UK Tote Group's investment since acquiring the Tote in October 2019, the innovations being made to the Tote's offering and how this is being received by customers.
---
Lambert Carrus
Communication and PR Manager, Carrus Group, is from a family with a long history in the industry. He has reviewed all the benefits of the tote model for the operator, the customer and the regulator, while also reflecting on its limitations.
---
Pertti Koskenniemi
Vice President, Gaming services BU International, Veikkaus Oy, has explained how an operator can offer both fixed odd and pool betting, and how both compete alongside each other.
---
Patrick Cummings
Executive Director, Thoroughbred Idea Foundation, has extensive knowledge of the US market, while also having worked in Hong Kong, and has shared his thoughts on how the US market is evolving with regulation on a state-by-state basis. He has outlined the advantages and disadvantage of this for fixed odds and pool betting operators, customers and the racing industry.