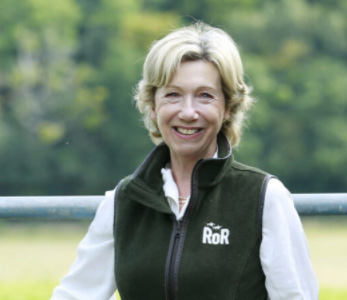 Mrs Di Arbuthnot
Chair Chief Executive of IFAR, International Forum for the Aftercare of Racehorses
What are the most important challenges facing IFAR in 2022?
The same challenges that are facing racing worldwide, the complexities of animal welfare and how there has been a revolution in community attitudes towards animals. An example of this was highlighted in Australia where activists disrupted the livestock and greyhound industry. Similarly, in the UK and Ireland following a television programme showing thoroughbreds travelling long distances to a slaughter house.
Despite the fact that these countries have many excellent initiatives in place, they are undertaking independent examination to strengthen their industry.
The racing industry cannot afford to be complacent and must show that the thoroughbred's welfare is a priority from cradle to grave.
How do you cooperate with the Racing Federations?
IFAR's mission is to promote the care of the thoroughbred during their lifetime with the goal to raise awareness of aftercare and to facilitate the sharing of best practise.
IFAR is available to provide advice and work with racing jurisdictions in order to help them start a programme and imbed in their racing business model. We have available to view, the 'Aftercare Toolkit' which shows various aspects and gives options to help racing jurisdictions worldwide plan a aftercare programme.
The organisation has been involved in conferences around the world over the last five years but with the challenges of COVID, these shifted online in 2021 and will again happen in April this year.
The conference programme title 'MANY PATHS – ONE GOAL' will take place on the 5th and 19th April at Noon British Summer Time (11.00am UTC/GMT) where speakers will present on a variety of issues including Social license, traceability, responsible end of life decisions and the athletic versatility of the thoroughbred. The moderators are Rishi Persad UK and Caroline Searcy AUS and the last session will finish with a young professional's panel titled 'Futuretelling – Thoroughbred Aftercare in 2042' – More information and how to join is available on the IFAR website.
Do you cooperate with Trotting Racing Federations, or do you intend to in the future?
Not at the moment but who knows in the future.
What kind of cooperation and exchange could be possible with Association of World Tote horse betting operators like WoTA.
Communication – sharing the message about the importance of a life after racing. a large percentage of people that watch racing do not know that thoroughbreds can and do have a second career. This can be in a number of ways, as a competition horse, to use in therapy, or as a companion for another horse or it's owner. How many people will watch the Grand National and think the worse about the future of the horses racing around Aintree? It is not that they don't care, it is because they do not know – this is a problem for the future of racing.
When did you become Chair of IFAR and what do you do when you are not the Chair of IFAR?
My main job is CEO of Retraining of Racehorses, UK racing's official charity – we have been operating for over twenty years and were instrumental alongside Godolphin's strategic advisor charities, Diana Cooper in setting up IFAR. I started to chair IFAR six years ago.
Both these roles keep me busy and I feel extremely fortunate to be doing something I feel so passionately about, and feel we are now beginning to see a change here in the UK as well as in many other countries that aftercare for thoroughbreds is not just talked about but is actioned.
Please tell us what is your best memory of a sport (horseracing or other) event you have attended?
This ages me – Bob Champion winning the Grand National on Alderniti – I was very young!
Watching RoR's National Championship makes me emotional too – this is also at Aintree