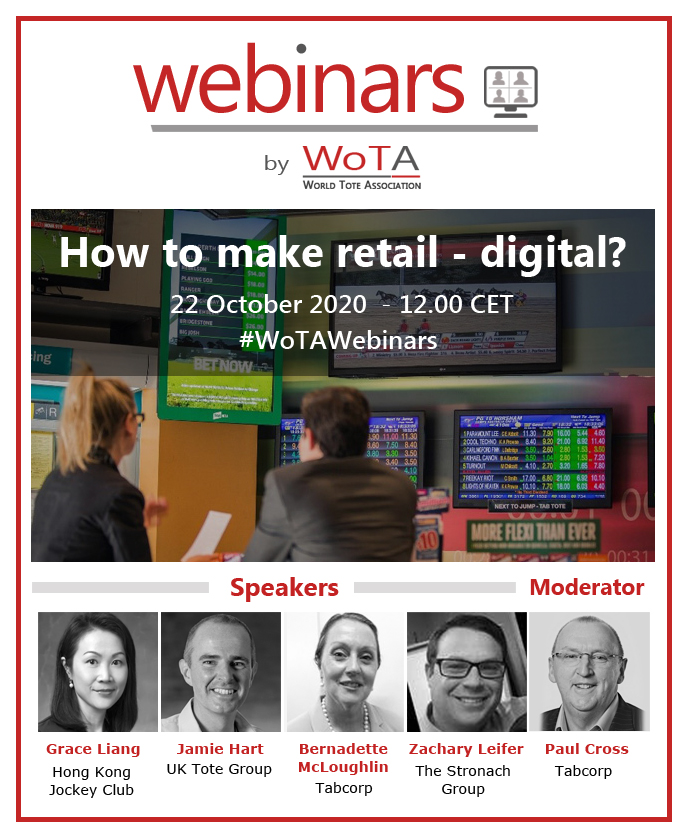 Do betting shops need a digital facelift in the post-coronavirus world?

The Webinar looked at the changing face of the retail betting shop with professionals working daily in retail transformation in Hong Kong, Australia, US, Sweden and UK.

Paul Cross
General Manager International at Tabcorp, set the scene and introduced the 4 panellists to the 42 participants.
Grace Liang
Head of Retail & Telebet Services of Hong Kong Jockey Club
Bernadette McLoughlin
General Manager Wagering NSW/ACT at Tabcorp Holdings Limited
Zack Leifer
Senior VP of Acquisition & Retention for The Stronach Group and Chief Marketing Officer at 1/ST Technology group
Video from ATG, Sweden – Digitalise shared tickets in retail
See video (External link)
Jamie Hart
Racing and Liquidity Director at the UK Tote Group
Full video of the webinar